Mid-West Family Entertainment looks forward to providing you with the best possible experience for your special event, and it will be customized to fit your expectations and personal style. Mid-West Family Entertainment is owned by Mid-West Family La Crosse, which owns 6 radio stations. In addition to our very skilled talent, we can also provide some of your favorite Mid-West Family La Crosse on air radio personalities to DJ your event!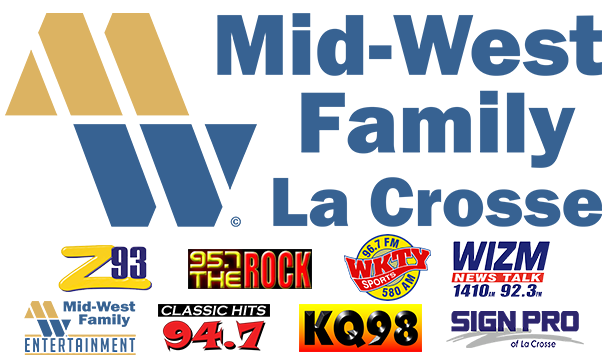 Meet the Mid-West Family Entertainment Talent!
What our clients had to say about us!
Brittany and the MWFE team were so awesome and unbelievably easy to work with. She was always available to answer any of my random questions before the wedding, so it was no surprise they were on top of everything the entire night.  Directing people to food, finding parents for special dances, making sure everyone was on the dance floor.  Even though she was being attacked by june bugs all night, she was always smiling and laughing and our guests could feel her enthusiasm.  I highly recommend MWFE! 
~ Jessica
Mid-West Family Entertainment is by the far the best in the Coulee Region. Mid-West Family Entertainment was mine and my fiancé's (now husband!) only choice for our wedding reception. The DJ brought the laughs and the dance, and we could've gone all night!
~ Molly
We had Mid-West Family Entertainment DJ our wedding this past October and I cannot say enough great things about them!  They were so accommodating with all of our needs and requests.  We also had some live music throughout the day and they worked so well together.  The music flowed perfectly!  They helped create a unique grand march mix for us that really helped set the tone for the night.  The DJ made himself known to us right when he walked in, which was greatly appreciated.  He was fun and personable and definitely made our last dance to 'Piano Man' memorable!  A huge hank you to all of you for such a wonderful evening!
~ Allie
We had Mid-west Family Entertainment provide music and a DJ for our client Halloween party.  The quality and selection of music was outstanding.  Our DJ had our clients up on the floor dancing and having a great time!   He was very professional, but fun at the same time.  Mid-West really made our party a success and we will definitely use them again.   I highly recommend them for any type of event you might be having!
~Debra
We were very pleased with Midwest Family Entertainment right from the beginning! Brittany Styles was great to work with and was very well prepared.  They really take the time to get to know you and what you want on your special day.  Jesse was the DJ at our wedding and did a great job! Our family and friends really enjoyed the music that was played!  Choosing Midwest Family Entertainment was by far one of the easiest decisions we made in the wedding planning process!
~Mallori
We used Mid-West Family Entertainment as our DJ for our wedding in October and were so thankful we choose them. They were professional and enjoyable. We met with them prior to the big day to discuss our needs and ideas and they helped make them happen as well as provide great suggestions to make our day extra special and unique. I especially loved that they helped us put together a song mix for our father daughter dance that was a huge hit, it was all that our guests could talk about for the rest of the night! Our guests were constantly complimenting our DJ's great music selection and keeping our dance floor packed the whole night. It was a wonderful experience and I highly recommend them!
~Hanna
We used Mid-West Family Entertainment for our wedding in September! Bags was our DJ and he was phenomenal! Everything was super personable and if he had any questions he came and asked which I love!! Everything went so smoothly and I give a good portion of credit to Bags! He checked in, and so much more! It made the day stress free! He was early to set up and flexible if we had to move the ceremony inside for rain! I couldn't of imagined anything else! My biggest fear of a wedding DJ is those cringy ones that sing along with the music and to no worry that never would happen with this company! Loved everything about their business and the connection Brittany Styles made with us when we first connected to talk about it the wedding day a year before! If I had to use a DJ again for anything I would 100% get Mid-West Family Entertainment!
~Shelby
Kristina and I just wanted to say thank you for the outstanding experience both in preparation and at our wedding dance. Chris did a great job and we appreciated how closely you executed everything we requested. The Queen, Taylor Swift and Swing Dance montages were awesome. Not a single "do not play" list song was heard and Chris facilitated everything perfectly. We've had nothing but positive comments about the party and dance, due largely to you guys. Thank you SO, so much for going above and beyond!
~Easton
Between Brittany and Bags, the entire experience start through finish was absolutely perfect. The music was perfect, we loved the energy he projected really made the night come together. Kids danced all night, old folks danced all night and more importantly I danced a lot that night, which is quite a rarity! Very professional and personable with us and our guests. We had more compliments on our DJ than everything else on Saturday, not even an exaggeration in the slightest. Thank you again for everything! We'll refer your service to anyone looking for the best music experience for their event.
~Hans
Brittany and Bags both did a fantastic job in providing entertainment for my wedding! Brittany is friendly, professional and takes the time to understand exactly what you want/do not want for your wedding. Bags was fun, easy to get along with and kept our guests (including me) on the dance floor all night long! Both my husband and I are very impressed with how smoothly everything went. Thank you for such an amazing service!
~Gwendolyn